Riverbeds and Craters

The Road Chose Me Volume 2 OUT NOW!!
The Road Chose Me Volume 2: Three years and 54,000 miles around Africa
With the titan and the extra 5 gallon container full to the brim, we strike out and drive along dry riverbeds recommended to us by locals, aiming directly for coast. Because water is scarce, all the animals eventually come to the dry riverbeds because of their occasional small pools of water. These are the best places for wild animal sightings, we're told.
The landscape is stunning, and the varied terrain keeps me concentrating hard. The surface constantly changes from deep sand to mud to rocks and back to deep sand – in the space of a few hundred yards.
I am utterly speechless when we round a bend to see a herd of wild elephants clustered under a tree seeking the shade. I am in awe of their bulk and how easily they move around in spite of it. I feel so happy to be out here with completely wild elephants – they're not fenced in and this is not even a National Park.
They just live out here.
We continue on for many days and nights, traversing riverbeds and finally across into the lower section of the Namib Desert.
Aiming directly for the coast we drop into the mighty Messum Crater, extremely beautiful and unbelievably remote and rugged.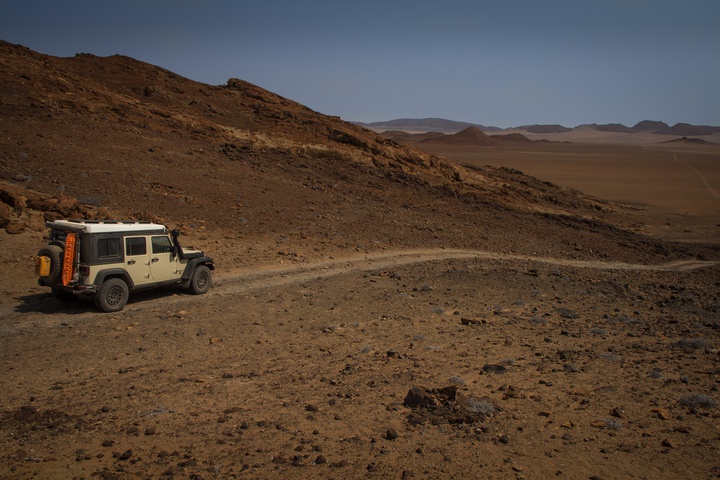 As we near the coast, the temperate plummets.
It's freezing here!
-Dan