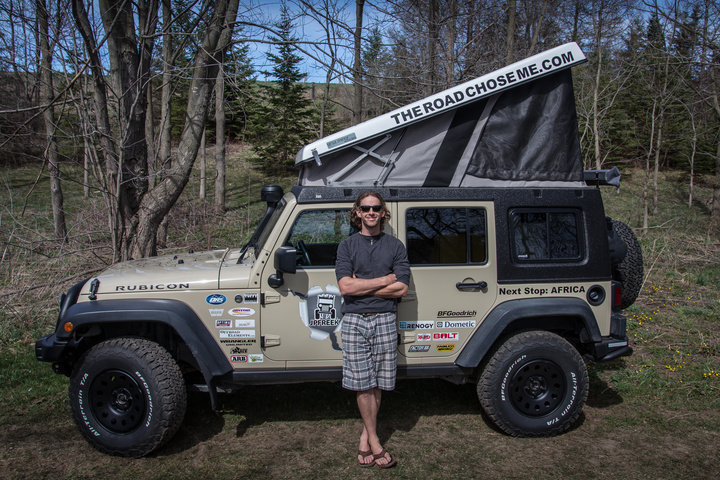 Jeep Wrangler Build for Two Years Around Africa
The build of my Jeep is extensive, with each modification carefully thought out and planned. The build focused around primary goals, I will lay out the rationale and decisions for each.
Weight was a primary consideration for each modification, as was limited interior space.
Goal 1: Strong 4×4, big enough to sleep in, fit inside a 20 foot container.
2011 Jeep JK Wrangler Unlimited Rubicon.
3.8l V6 Gasoline engine, 6 speed manual transmission.
Locking front and rear differentials, electronic sway bar disconnect.
4.10 axle ratios.
4:1 transfer case ratio.
Goal 2: Extremely capable off-road
Two years around Africa, especially West Africa, requires a very strong 4×4 vehicle. I chose the Rubicon for the factory diff locks, stronger D44 front axle, and low range transfer case. In addition to that, I have added:
Suspension: Stronger and improved handling with mild lift
Bumpers: Radiator protection, stronger

AEV Front with Skid Plate, AEV Rear, Tire carrier and High Lift Mount.
Tires:

All-round performance, extremely durable, mild clearance increase
Recovery: Going solo for two years, I need to be able to get myself unstuck.

(synthetic rope to reduce weight).
.
.
.
.
.
to remove trees and limbs if needed.
Lighting:

Inside and out, being able to see is a must
Snorkel:

AEV with Pre-Filter for extreme dust removal.
.
Goal 3:

Interior living space

A two year expedition is not a vacation, this is my life. Given that I'm building my Jeep into a house on wheels, I want interior living space – to be able to escape the bugs, the rain, or even just escape the world for an evening will help keep me sane enough to continue.

The build and design is centered around a Pop up roof and interior cabinets I designed and built.

The roof is lighter and more aerodynamic than a roof rack + Roof Top Tent combination.
Interior: allows for standing, sitting and sleeping in the rear of the Jeep

Removed back seat & carpet, custom built cabinets for camper setup using:
.
.
To see photos and the build process of the interior see: Jeep Build Phase 1 Complete
Goal 4: Improved Sleeping, Cooking, Eating
Two years from Alaska to Argentina on my previous expedition taught me a lot.  I love camping, though after two years I was done with Ramen noodles and tinned soup. I want to eat vegetables, cheese and meat. I want to sleep up off the ground out of the mud. With that in mind, the following modifications where made:
Awning:

Sun shade over the kitchen area at the rear
Shower: Keep it simple, keep it light

I hang in the sun for heat.
Fan for sleeping:

Light, charges off USB, has speed settings and internal battery
Goal 5:

Ability to be self-contained for weeks at a time

My aim to to get far off the beaten path, so I need to be able to support myself. With that in mind, I added:
Water System: Water is the number one limiter for days without resupply
Batteries: Isolated batteries mean I can run the fridge for days without starting the engine
Solar: To charge the second battery
Additional Gasoline: A range above 500 miles is a must

. (Total Range ~600mi.).
.
On Board Air Compressor & Tire Repair: self-repair is a must

.
.
.
Spare values, stems, inners, etc.
Goal 6: Secure Storage for all my stuff
The stock Jeep glovebox and console are just plastic, and the hood does not lock. I improved that with the following:
Miscellaneous Other Modifications and gear
Navigation: I drove AK-Argentina without a GPS. I'm not doing that again.

.
.
Tracks4Africa Map Pack.
Open Street Maps (free and fantastic!)
Michelin paper maps , ,  .
Electrical: I don't like inverters – they are inefficient, heavy and hot.
Tools & Spares: Just the essentials.

for diagnosis.
to clean and oil air filter.
and tons of old wires.
is much better than duct tape.
for electrical diagnosis.
1/2″ drive.
Tons of standard stuff – sockets, allen keys, torx bits, screwdrivers, wrenches, hammer, pliers, cutters, saw, wire, solder, etc.
Camping / Other: Stuff to make life on the road more enjoyable.
With that, my house on wheels is complete.
-Dan