Amazing Angola Pt. 3

The Road Chose Me Volume 2 OUT NOW!!
The Road Chose Me Volume 2: Three years and 54,000 miles around Africa
While recuperating on the beach not far from the bigger city of Benguela, we extend our one month Angola visas. The process is not difficult or expensive, and one of the officers speaks English and is happy to help us through all the forms and copies. After about two hours and multiple copies we submit the application along with $9USD each, and the extensions are ready two days later. In a very kind gesture, they are not just extend a month from the date of application, they are extended a month from our original visa date, so we actually get almost two more weeks, for a total of 10 weeks in Angola if we choose.
I drive around town and quickly spot the tell-tale guys standing on the street corner with fancy-looking knapsacks. When I nod they quickly come to the Jeep and we get down to business changing money. I want to change so much ($725USD into Angolan Kwanzas) they actually have to call over their boss, a very friendly and jovial guy. He is carrying a monster stack of bills – I estimate it's worth over $10k USD.
I sit in the drivers seat, and we negotiate with the calculator on his iPhone, because I can't seem to get the large numbers across in Spanish (they speak Portuguese). Soon we agree, and the big guy is more than happy to count off a massive stack of bills and hand them right to me. He patiently waits while I count the entire stack twice, all while still holding my USD.
When satisfied, I hand over my stack, and he counts it all twice. When we are both happy we warmly shake hands and thank each other before parting ways.
I have always imagined changing money on the street would be a tense and scary affair, always worried about being ripped off. My experience here has been typical of my entire time in West Africa – extremely friendly, relaxed and not a worry in the world.
Nice.
Once I am rested and fully over Malaria, we continue to move mostly South. Immediately the landscape changes dramatically, and in the span of just a few miles I find myself in a dusty, hot, dry desert.
After many, many months of wondering when it would happen, here it is. No more jungle, no more humidity. I have driven from the Sahara desert in the North, through the jungle Equatorial region to the Namib desert in the South.  I am immensely happy to be rid of the humidity and mosquitoes, at least for a while.
With no particular destination we stick close to the coast, on horrendously bad gravel roads through the sparsely populated desert.
Highlights include a natural rock arch formed next to a dry lake bed by erosion, and a fantastic wild camp on the beach sandwiched between the ocean and the cliffs.
The ocean here is extremely powerful, and has worn a cave deep into the sandstone cliffs behind out camp. I walk in something like fifty yards, with the cave never being more than a couple of yards across.
Angola is only the second country I have extended my visa for – that should tell you how much I am enjoying my time here!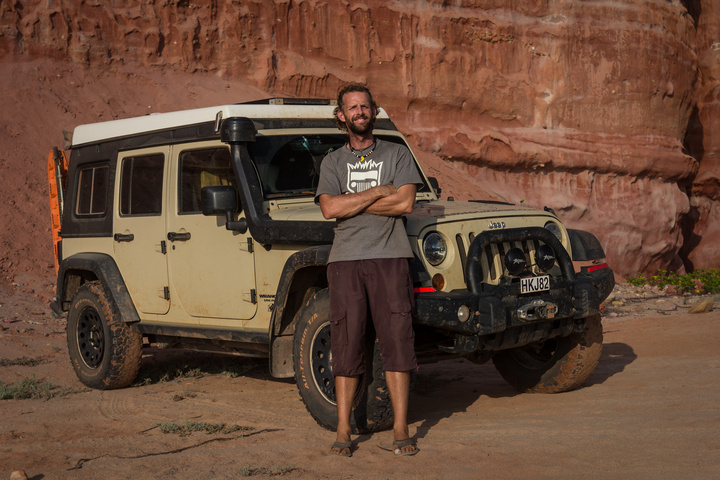 -Dan