Looping Lesotho pt 1

The Road Chose Me Volume 2 OUT NOW!!
The Road Chose Me Volume 2: Three years and 54,000 miles around Africa
After prying ourselves away from the spectacular falls and culture in Semonkong, we move deeper into the country to explore further. Each night we wild camp and watch spectacular sunsets over the mountains.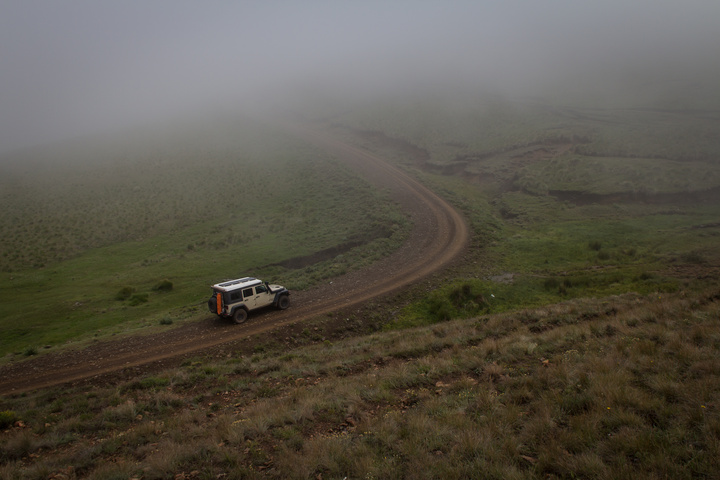 Locals are extremely friendly and welcoming, and don't mind at all when we wild camp up behind their village or hut. During the day we explore dirt roads, always excited for what comes around the next corner.
One night after asking permission we camp right near a rural bar – which is really just a single building. The shepherds come in on horseback wearing extremely colorful blankets and soon welcome us in for the night. Extreme qualities of beer are consumed, with everyone laughing and smiling. I play pool against an old man about half my height who almost beats me even after he falls down from being so drunk.
At one point the shepherds group up and dance what I can only imagine is a traditional dance… something like a conga line but with much more feeling and emotion.. almost in slow motion. Even after all the beer I know I am witnessing something special.
In the morning we wave goodbye to our new friends, straddling the border of South Africa and continuing to pass through supremely beautiful small villages.
A highlight comes when we find at extremely remote and rough mountain pass (NOT Sani pass) in the heart of the country. This road is obviously seldom-used and I find myself in low range first gear to climb up and over the extremely steep switch-backs. Of course, we never seen another vehicle for the entire day!
Woah, Lesotho is spectacular and the locals are super-friendly.
Why doesn't anyone talk about Lesotho?
-Dan