Shipping across The Darien Gap Pt. 4

The Road Chose Me Volume 2 OUT NOW!!
The Road Chose Me Volume 2: Three years and 54,000 miles around Africa
2014 update: There is now a vehicle ferry making this much cheaper and easier. See Panama To Colombia car Ferry Xpress on WikiOverland for all the details.
Before leaving Panama City we go to the Marfret office one last time to settle our bill. Apparently it's quite normal in the shipping industry to pay the bill after the ship has sailed because the agent knows they have the original Bill of Lading, without which you have nothing. When you pay, you get the paper. Seems fair.
When all the calculations are made, the final figure is significantly lower than we were expecting. Both of us keep out mouths shut and pay the $554 each.
Skip a few days to Colombia and the port in Cartegena is not far from our hotel, so on another blisteringly hot & humid day we walk down to our customs agent, hoping to start the paperwork game on the Colombian end. We've heard all manner of horror stories from paying many hundreds of dollars to vehicles being impounded to waiting weeks for customs clearances. Sounds like fun in any case.
The agent working for Marfret knows all about us and has our paperwork ready and waiting. Again there are stamps and signatures, this time even a really fancy one that makes the paper bumpy, and us say 'Ooohhh'. The agent wants us to pay $35 each for a 'Documentation Fee', which we try to get out of. When we show the original quote that included a $50 fee, the agent happily raises the price to $50. Damn. After a good deal of negotiating we end up paying $35 each and then split the other $15 (?!?). We're OK with this as we think it partly makes up for paying less in Panama City.
We move just down the road to customs and get the process happening there and are more than a little amused to once again run into our French friends. It's great to see familiar faces and we catch up on all the news since we saw them.
I'm impressed when a customs guy checks our container number in a database and immediately knows exactly when the ship docked, when our container was offloaded and exactly where it is. After filling out a standard vehicle form and making certain we have just the right number of copies of everything we're told to wait while it's all typed up. The office is extremely professional, clean and air conditioned and I'm really happy with how things move along, not at all stressed. Unfortunately it's now time for a two hour lunch break, so we settle in for some waiting. After lunch we discover the only person that can give us the final signature is in a meeting and we wait a further two hours for that one signature before we are all set to collect the container.
Around the corner at the port itself we a given security passes and move inside and meet a guy that has been waiting for us. He speaks great English and obviously assists tourists through this process regularly, making things much simpler for us. I don't have life insurance so am not allowed to enter the actual port to collect the Jeep. I want to go in, but hand the keys over to Vince to keep the process moving along. They seem pretty serious about safety here, actually checking up on his insurance and giving him a vest and hardhat to wear.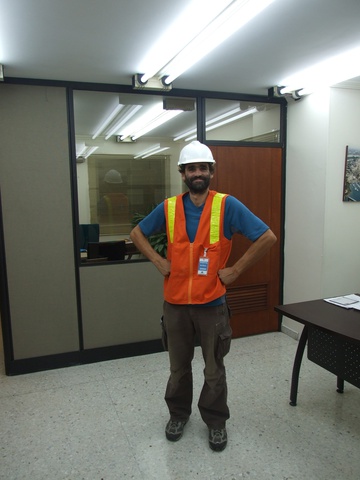 Vince moves the two vehicles out of the container and parks them in the port, a service we have to pay for. It must be our lucky day as we are not selected for 'random' inspection so the process can continue and we don't have to pay extra for the inspection. A few hours later I watch Vince drive the Jeep out of the port, before he returns for his Land Rover.
I've never heard of anyone getting their vehicles from this port in only one day and most people end up paying around $115 after the inspection fees. Talk about a lucky break.
It's 9:15pm when I drive out into the streets of Cartagena, more than a little dumbfounded to be driving my Jeep in South America. It makes my head hurt

Final Price(per car, sharing a 40′ High Cube container):
Actual Shipping (inc. Ocean Freight, Bunker, Stuffing & Unstuffing & Lashing) $554
Documentation Fee for Bill of Lading paid to customs agent Mario $100
Bribe for Mario's guy to correct paperwork at customs $10
Port Fee in Colón: $5
Documentation Fee in Colombia: $43
Port Fee in Colombia: $58
TOTAL: $770
(A regular 40′ container is the same price as a High Cube)
Our shipping agent
Rozo / Marfret:
ROZO & CO. (PANAMA) S.A.
URB. NUEVO PAITILLA
DUPLEX NO. 38
PANAMA CITY
The man in charge who helped us immensely was Mr. Martinez (gmartinez@therozogroup.com.pa)
I would take his advice on which customs agent to use (maybe Mario, maybe not)
Feel free to ask any questions about the entire process, I'm more than happy to help anyone attempting this.
-Dan