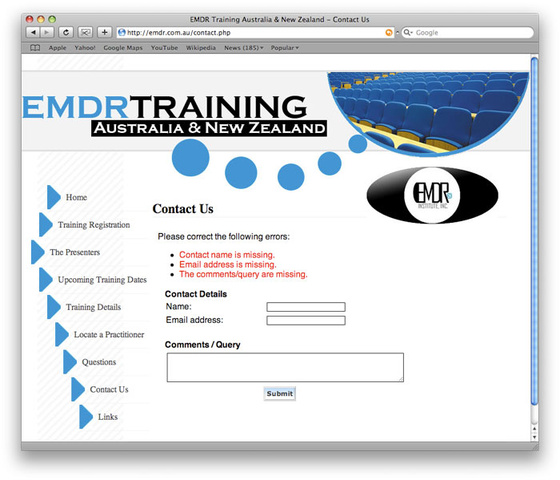 Contact Page -- PHP submission and validation.
tlrqtn.com
A commercial website designed by Bari and coded by me.
CSS gives the layout (inc. transparent png's in IE 6) and PHP gives some user-definable content.
barisimon.com
A website to showcase Bari's design talent.
Bari and I worked together on the site; Bari the design, Dan the code.
HTML and Cascading Style Sheets were the go, with JavaScript for friendly navigation & display of images.
Health Select Pro
A custom program written by myself and my business partner Pete.
It's a JAVA Swing GUI designed as a user-friendly databse front-end.
HSPro uses JGoodies and GridLayout for all the GUI prettyness & Hibernate to persist JAVA objects in a Postgres Db.
Having never before used Hibernate, JGoodies, GridLayout, or produced a "pretty" JAVA GUI, I didn't stop learning during the entire project.
When I took these screenshots I didn't have a database setup, so alot of the fields are empty that would otherwise be populated.
emdr.com.au
A commercial website written by myself and my business partner Pete.
Written in PHP to allow for dynamic content and data submission.
Styled using Cascading Style Sheets.